Dust Tactics - Recon Rangers Squad (Recon Boys) [expansion]
by : Fantasy Flight Games
range : dust tactics miniatures game and expansions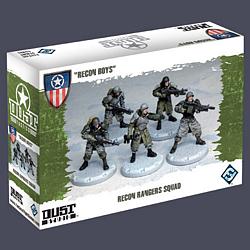 Recon Rangers Squad

&nbsp no longer available
players 2 - 4, ages 14+, 45 - 60 minutes designer(s) : =Paolo Parente & Olivier Zamfirescu?>
[barcode 9781616610050, BGC stock id 3912]
Description of Dust Tactics - Recon Rangers Squad (Recon Boys)
For the Allies, speed and versatility mean staying one step ahead of the enemy. With the Recon Boys expansion, you can outfit your squads with the ability to adapt to nearly any threat.

Recon Boys excel at their primary task: scout, infiltrate, and capture. Their speed allows them to quickly find cover or control a strategic location, which makes up for their lack of firepower. Recon Boys carry a Victory machine gun that can cut through enemy troops, but with no anti-tank armaments, beware leaving them alone against armored units.

Bring these new troops to the battlefield and decide the fate of the world!
Contents of Dust Tactics - Recon Rangers Squad (Recon Boys)
5 Figures, 1 Unit Card


Required (but not included)
Dust Tactics or Dust Tactics Revised Core Set
---