Ventura board game
by : Fantasy Flight Games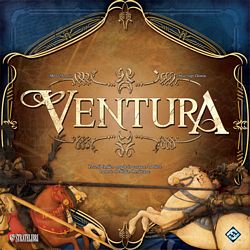 players 2 - 4, ages 13+, 60 minutes designer(s) : =Alberto Menoncin & Silvio Negri-Clementi?> artist(s) : =Gianluca Santopietro & Demis Savini?>
[barcode 9781616610258, BGC stock id 3617]
Description of Ventura board game
In an age of great battles, valiant leaders, and unscrupulous mercenary armies, fortune lies within your grasp.

Ventura is a board game of nobility and conquest for 2-4 players. Set in 14th century Italy, Ventura puts players in control of warring noble houses, each vying for control of the countries growing wealth.

Balance your house's earnings and maintain your hired soldiers to keep your family's noble standing. Remember, the best armies are also the ones that cost the most!

With more than 120 plastic pieces, 40 Territory tiles, 4 Family Boards, a scoring board, and over 100 cards, Ventura will whisk players into a world of warring mercenaries and noble families, all seeking control of Italy's burgeoning wealth.

How will you spend your fortune?
Contents of Ventura board game
Over 120 sculpted Playing Pieces, Over 80 themed Tokens, 40 Territory Tiles, 4 detailed Family Boards, scoring board, Over 100 Cards

---