Duel of Ages 4 - Royal Tournament [expansion]
by : Venatic Inc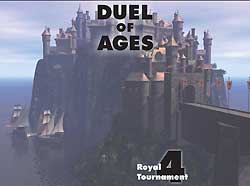 players 2 - 16
[barcode 851370000042, BGC stock id 331]
Description of Duel of Ages 4 - Royal Tournament
The Royal Tournament calls you to daring feats. Prepare to challenge at the jousts, in the skirmish fields and on the archery range. Feast everyone else under the table, or regale the court with epic tales. Great deeds will win new allies.

Take to your wings, using new characters, creatures and equipment with the gift of flight. Acquire new oddities, with 52 new equipment items, including -

The fierce Griffinhawk
Mudgepus, the short-tempered Genie
Strange artifacts like The Clutching Bow and the Shadowman Staff
Hardy cavalry steed Gadabout
Everyone's favorite doomsday device, The Showstopper
The sadistic Gnasher Gloves
The less-than-cuddly Fluffy The Cat
Eight powerful new Cubes
And many more...
Contents of Duel of Ages 4 - Royal Tournament
Royal Festival Adventure key, 20 Characters, 52 Equipment items


Required (but not included)
Duel of Ages board game
---