Triple-Trouble-Jigsaw-Puzzle - Bald Eagle [49 pieces]
by : Cheatwell Games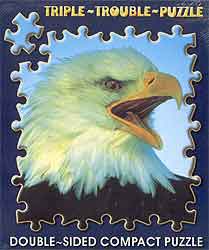 [ BGC stock id 2228]
Description of Triple-Trouble-Jigsaw-Puzzle - Bald Eagle
Self-contained in a CD-sized box, this 49-piece puzzle initially seems simple to solve… but appearances can be deceptive!

Treble the challenge – DOUBLE SIDED - an identical picture is used on both sides of the puzzle, MIRRORED - mirrored about the centre, pieces look almost identical, CUT BOTH SIDES – pieces from the "rear" appear the same as pieces from the "front"!

An instant mind-mangling challenge, the puzzle is assembled in its moulded tray. When completed it packs away conveniently, ready for use time and time again!
Contents of Triple-Trouble-Jigsaw-Puzzle - Bald Eagle
49 pieces

---