Host Your Own Pub Quiz in a tin
by : Cheatwell Games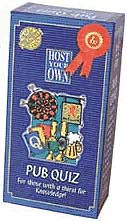 players 3 + , ages 14+ [ BGC stock id 527]
Description of Host Your Own Pub Quiz in a tin
More than just a quiz game, this pack contains invitations, recipe suggestions and a comprehensive hosts guide ... all set for you to organise umpteen memorable evenings of trivia entertainment!


12 fun and challenging categories include: sports & pastimes, music, tv film & theatre, geography, history, food & drink, doctor's dilema, on the move, natural history, science & technology, people, abbreviations


The gane is played as a gripping 12 round competition in which teams compete to see who can earn the greatest overall score! Whether you choose to play it seriously or light-heartedly, Pub Quiz comes jam-packed with hundreds of tip-of-the-tounge teasers to give you hours of fun, time and time again!
Contents of Host Your Own Pub Quiz in a tin
host's guide, invitations, suggested menu and recipies, game cards, game play and acore pads, pencils, sand timer and category game boxes.

---