Pack of Heroes card game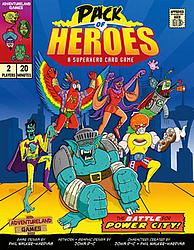 players 2, 20 hour(s) [ BGC stock id 5529]
Description of Pack of Heroes card game
Pack of Heroes is a 2-player 20-minute card game set in a fun parallel universe of vintage comic books! Each player picks their own superhero team from the many different heroes in the game, and then takes on their opponent in an exciting tactical battle with all sorts of crazy super powers! Combat is resolved with the unique "power card" system, designed to have all the excitement of dice-based combat, but with far less randomness. Whoever has the last hero standing wins control of Power City!

Once you have picked your team, it's time to fight! There is a very simple structure to gameplay. The players take it in turn either bringing a hero into play, or using their hand of power cards to trigger one of their heroes' amazing super powers!

At the start of each turn, you may also move a hero, based on their movement ability. Getting your team into the right positions to attack is a big part of the tactical play. At the end of each turn, you'll draw a power card. You'll need to manage your hand and watch your opponent's power card discards carefully to attack at just the right time!
Contents of Pack of Heroes card game
35 hero cards, 18 power cards, 7 team cards, 10 weapon cards, 2 reference cards, 25 wound markers, 4 stun markers, rule book, hero almanac

---